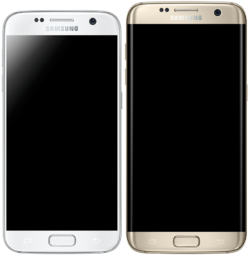 The Galaxy S7 features IP certification for water and dust resistance, as well as expandable storage. The S7 is produced in a standard model with a display size of 5.1-inch (130 mm) as well as an Edge variant whose display is curved along the wide sides of the screen and also has a larger 5.5-inch (140 mm) display. The Galaxy S7 and S7 Edge are the last two phones in the Samsung Galaxy S series to have a physical home button with a front-sided fingerprint sensor embedded in the button (the S7 Active being the last in the Active series to feature three physical buttons with the fingerprint reader embedded home button, when not considering the prematurely discontinued Galaxy Note 7), and the last Samsung Galaxy S series phones to be equipped with a MicroUSB-B port, which has been replaced with USB-C afterwards.
Galaxy S7 Specifications and Features
Important Notes
Please remember, CheapCellPhones.com does not guarantee or make any representations as to the following prices or stated conditions of the items listed below. We are simply searching the Internet for the best advertised deals and presenting that raw, data and pricing to you. Always be a smart shopper!
Compare Prices from leading online stores such as Amazon, eBay, Walmart, Sam's Club, NewEgg and more…

(Disclaimer: If you buy an item from this list, Cheapcellphones.com might receive a small commission or fee)
---
Additional Galaxy S7 Shopping Resources
---
Price History based on lowest price shown in above grid
---
Tell Us What You Think About the Galaxy S7
[wp-review id="1453″]
---
Helpful Books and Manuals
---